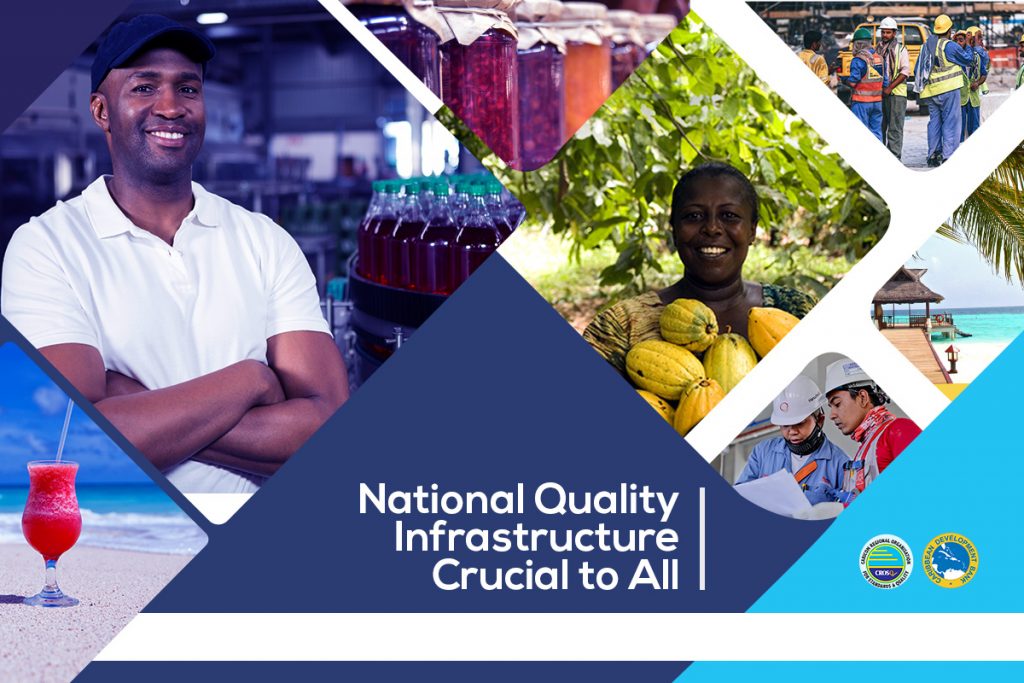 A National Quality Infrastructure (NQI) is crucial for any nation in the world to effectively compete in the global marketplace. In particular, it ensures that the goods and services sold by emerging economies are produced at an internationally acceptable quality so that businesses in these economies can gain access to global markets. Businesses are more likely to survive in this modern era if they strategically expand to markets outside their home countries.

The World Bank has identified the significance of an NQI and offers advisory support to help developing countries create strong NQIs. They argue that not only do NQIs provide businesses with access to global markets, they also ensure that regulations and policies are implemented which protect the consumer and the environment. This article discusses the NQI's role in consumer and environment protection.
The NQI Process
Pivotal to the role an NQI plays in consumer and environmental protection is the components of an effective NQI process. An effective NQI process has three components:
Conformity Assessment
Standardization
Metrology
Conformity Assessment
A conformity assessment guarantees that the requirements set by the NQI are fulfilled by a business. The techniques used are: testing, inspection, auditing, evaluation, examination and assessment. A claim of conformity (certification) can be assigned to a business after the business passes the conformity assessment requirements.
Standardization
There should be clear standards that govern the quality management mandate of an NQI. Key stakeholders work together to create standards that will govern various industries within a country. These standards are usually mirrored against international standards, such as the ISO. Therefore, the standardization body ensures that local products are internationally competitive.
Metrology
Metrology is the scientific study of measurement. Richard Asiedu, Head of the Industrial Metrology Department at Ghana explains, "Metrology is crucial to guarantee quality, competitiveness and optimisation of resources worldwide as it provides consumers with the assurance that correct measurements are carried out." Therefore, all countries should have a National Metrology Institute that delineates national measurement standards and makes it possible to trace measurements.
NQI and Consumer Protection
Consumer protection is important for the successful implementation of an NQI. It should include the development of a Consumer Protection Agency (CPA) and a framework for risk-informed decision-making. CPAs perform five main functions:
Ensuring consumers know their rights
Investigating consumer complaints
Regulating businesses
Granting industry certification and licenses
Enforcing consumer protection laws and regulations
Jamaica's Consumer Affairs Commission (CAC) is an example of a CPA that works well. It is an agency of the Ministry of Industry, Investment and Commerce. The CAC is specifically mandated to "inform, educate and empower consumers to protect themselves in the marketplace."

Consumer protection ensures that consumers are protected from the profit-seeking schemes of businesses. It reduces the risk of a consumer purchasing inferior products that can be detrimental to financial wellness and health. Businesses may deem it to be a nuisance, but it helps them stay in the game since consumers are more confident in purchasing regulated products.
NQI and the Environment
Each element of the NQI process significantly supports efforts to create a healthy and safe environment. Modern standardization practices ensure that products and processes are eco-friendly. They also govern the right level of energy use, best waste management practices and other methods to protect the environment.

Conformity assessment ensures that personal protective technology (PPT) is used in the workplace to reduce risk and exposure to danger. The PPT products must also be rigorously assessed before being deployed for use in the workplace.

Metrology helps with quantifying the parameters needed to measure climate change. As Euramet states, "Managing and protecting the environment requires robust and reliable data to assess and monitor environmental parameters whether for assessing climate change or pollution emission trends."

Furthermore, metrology ensures that the results from manufacturing processes can be compared with the results produced globally. Having all global products consistently yield the same results bodes well for the environment.
Final Words
Consumer and environmental protection are essential components of an NQI. Consumer protection ensures that consumers know their rights and that these rights are adequately accounted for by businesses. Standardization ensures environmentally friendly practices; conformity assessment ensures that the right PPTs are used in the workplace; metrology ensures that all products achieve internationally acceptable standards and that manufacturing processes account for climate change. You should be the change you want to see and support the development of a strong NQI in your country.