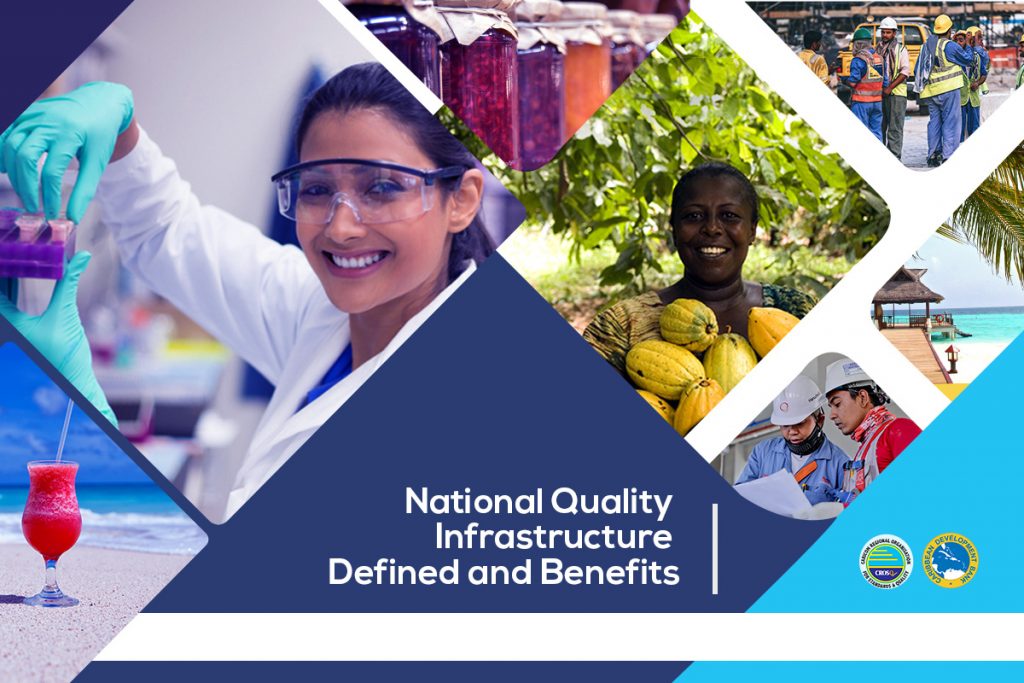 Globalization has made it imperative for a paradigm shift in the way Caribbean countries do business. All Caribbean businesses are challenged to restructure their operations to meet international standards in order that they can remain competitive. After all, the Caribbean is only a speck in the global marketplace.

A National Quality Infrastructure (NQI) is the first step towards helping Caribbean businesses have even the slightest chance of effectively competing internationally. The growth of Caribbean economies depends on it. As a Caribbean micro, small and medium-sized enterprise (MSME) owner, it is time for you to tap into the benefits of an NQI so that you can get the support and guidance necessary to taste a piece of the success pie.
What is an NQI?
An NQI is a national framework that guides the production of local goods and services based on agreed standards that follow international benchmarks. Jamaica and Trinidad and Tobago have been leading the Caribbean in establishing strong NQIs, and Antigua and Barbuda, Grenada, Guyana, Saint Lucia, St Vincent and the Grenadines and Suriname are following suit. It is time for other Caribbean nations to also take up the mantle.
What are the 5 Core Components of an NQI?
The 5 core components of an NQI are:

Standardization: There is an established way of doing things nationally that enables local companies to compete globally.
Testing and Measurement: Companies are charged with the responsibility to test and measure their products and services against these benchmarks to ensure validity and consistency.
Certification: Proof is provided that companies meet the benchmarks and are, therefore, producing at an acceptable standard.
Accreditation: Training is provided for the people conducting testing, certification and inspection.
What are the Benefits of an NQI for Citizens?
An NQI has a ripple effect on a country's citizens even if they are not directly involved in trade and manufacturing. Here are a few benefits:
Access to more jobs as companies employ more people to help them achieve international standards
Products produced by local companies are safer and more sustainable
Consumers are better protected
Opportunities to travel increase as governments are able to negotiate better trade relationships
What are the Benefits of an NQI for Local Commerce?
A properly implemented NQI can spark a vibrant commercial industry that boosts the economy. Here's how:
The costs of international trade are reduced because local standards no longer compete with international standards.
There are less barriers to international trade.
Local companies become more competitive in the global marketplace.
Innovation increases, which leads to the production of even better products and services,
What are the Benefits of an NQI for Caribbean Countries?
Since an NQI helps both a country's commerce and citizens, it stands to reason that these benefits extend to the country as a whole. Some additional benefits of an NQI to Caribbean countries include:
Ensuring that international standards and codes are being applied correctly across all industries
Creating consistency
Providing guidance for local producers which in turn makes them feel empowered
An increase in local commerce
Government officials being better able to represent the country in international fora and contribute to the creation of international rules
How Can Caribbean Countries Create a Strong NQI?
Follow the leaders. Jamaica and Trinidad and Tobago have been transparent about the development of their NQIs. These countries understood that a National Quality Plan/Policy was necessary for the effective implementation of an NQI. For instance, Jamaica's National Quality Policy is linked to its:
Vision 2030 National Development Plan.
Special Economic Zones Policy.
MSME and Entrepreneurship Policy.
National Energy Policy.
National Export Strategy
Food and Nutrition Security Policy.
Food Safety Policy.
Creating an NQI isn't a one shot strategy; it requires the coalescing of various stakeholders, months of planning and training, and buy-in from entrepreneurs. CROSQ is on a mission to help all Caribbean nations do what is necessary to establish strong NQIs.
Putting It All Together
An NQI is critical for the development of Caribbean countries. This scattering of countries are only small peas in the pod of a highly competitive global marketplace. Therefore, MSMEs in Caribbean nations need support to ensure that their products and services meet international standards. An NQI provides a national framework that helps all businesses meet international benchmarks. Take your business to the next level by following the guidelines of your country's NQI.