on Nov, 26, 2019

Category Demand for Quality
Comments Off

on 5 Ways Quality Opens Up New Markets for Your Business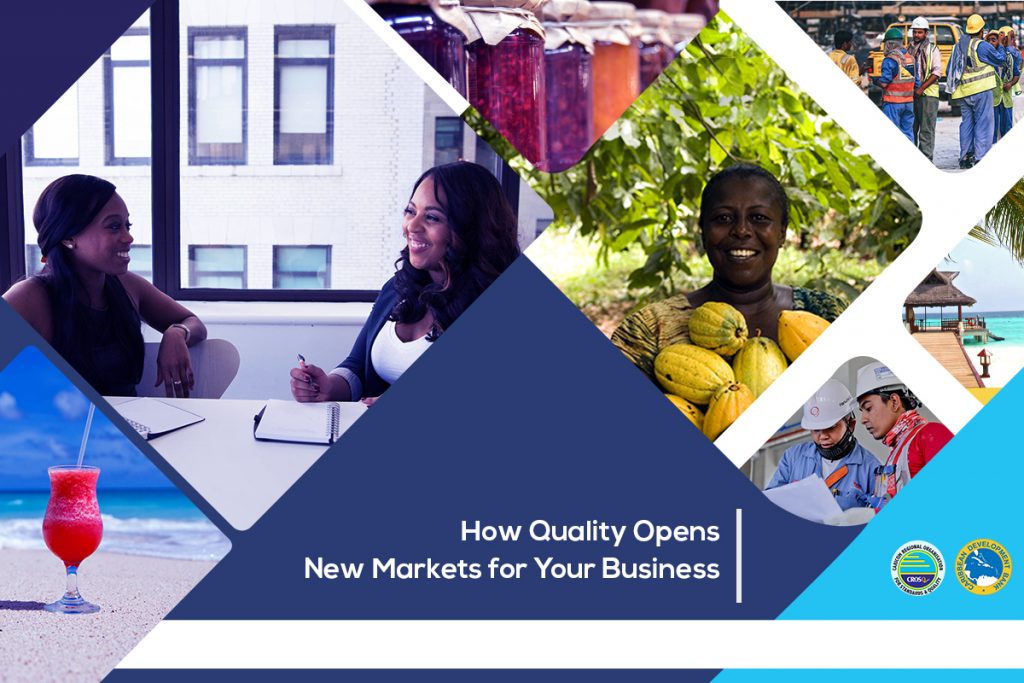 Quality is the hallmark of any successful business. Some businesses that attempt to compete exclusively on price can fail; but businesses that focus on quality develop a loyal customer base that keeps their doors open in the long-term. Here are five ways quality certification has helped some Caribbean small businesses reach new markets. Your business can also experience these benefits if you make attaining standards a priority.
Awards and Recognition
Caribbean small businesses, such as Baron Foods, have received international awards because of the quality and innovative nature of their products. Baron Foods was most recently awarded two silver medals at the Monde Selection 2019 International Quality Awards for their banana ketchup and sweet chili thai sauce.

Consistently meeting international quality standards shines a positive light on your brand and makes it possible to win such prestigious awards. This increases your brand's credibility in the eyes of consumers and eventually leads to more external sales, and hence much needed foreign exchange.
An Environment for Innovation
Innovation should be an integral component of any small business' growth strategy. Increasing competition in global markets means that small businesses have to:
sell products that are truly unique
add value to the marketplace
Meeting the requirements of international standards, in many cases through adaptation for the regional context, has helped several Caribbean businesses foster an environment for innovation. Creativity, collaboration and teamwork have helped these companies continuously meet the requirements of these standards, remain innovative and expand into regional and international markets.
Reduced Barriers to Trade
External markets have strict regulatory policies for trade. It is difficult, if not impossible, for a business without quality processes or certification to break into these markets. Some Caribbean small businesses have a comprehensive quality program based on ISO 22000:2005 and FSSC 22000:2010. These internationally-recognised certifications have given companies like Baron Foods considerable leverage in several external markets.
Good Relationships with International Partners
Exporting to unknown territories can be both frightening and challenging. Cultural nuances, language barriers and lack of a strong distribution network can result in failed attempts to enter new markets. Your business needs to establish a strong relationship with local partners to get the most out of the expansion opportunity.

Baron Foods established strong relationships with Sainsbury and Tesco, two of the largest supermarket chains in the UK. The global recession reduced Baron Foods' international sales, so the company knew that it had to do something to quickly get back in the game. Their good relationships with Sainsbury and Tesco enabled them to increase their shelf space and ultimately increase sales – a major win for a company based in a small Caribbean island. It is highly unlikely that these relationships would have been created without Baron Foods' acquiring international certification.

An Equipped Workforce
Rigorous training is an important part of the certification process. Staff members need to be trained in new, more efficient business processes and the use of new equipment. It is important to provide training and performance incentives to staff members so that you can create a more motivated workforce committed to consistently producing quality.
Final Words
Certification that proves the presence of quality has helped several Caribbean small businesses expand into new markets and it can also help your business do the same. Your brand will become known regionally and internationally for consistently providing quality products that consumers demand. Additionally, your workforce will be empowered through training and innovation. Strong partnerships will be forged and the barriers to trade will be reduced.

References
Success in export: Baron Foods Ltd. (n.d.). Retrieved from http://carib-export.com/login/wp-content/uploads/2013/04/Export-Success-in-Export-Baron-Foods-Ltd-Ronald-Ramjattan.pdf
Baron Foods brings home Monde Selection Quality Awards (2019). Retrieved from https://stluciastar.com/baron-foods-brings-home-monde-selection-quality-awards/