From Study Tour to Regional Certification Scheme Concept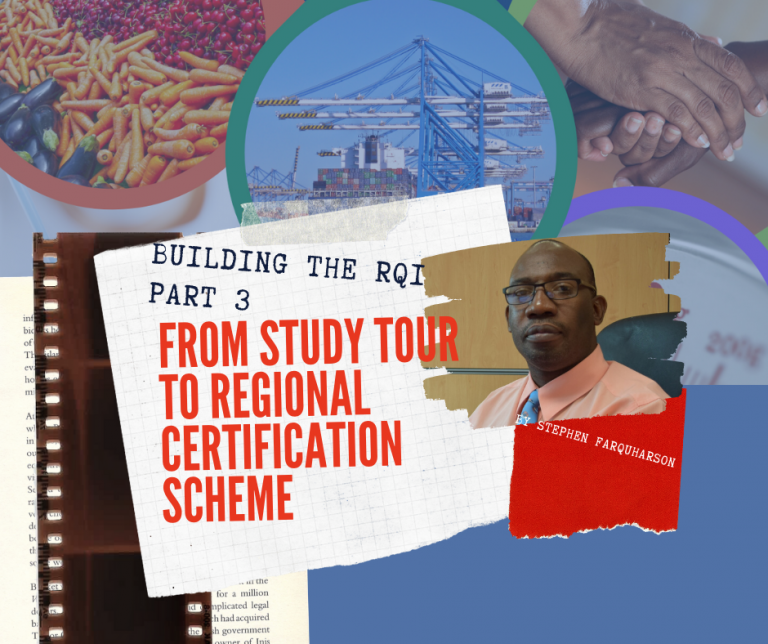 Building the quality infrastructure of the CARICOM Region is not a task one can take on alone, even within the Caribbean itself. At times, it requires looking beyond our Caribbean waters to encompass the best practices and experiences of others.
CROSQ, has over the past couple years been stretching its wings beyond this region to seek out the knowledge and other experiences of those who've tried various methods to developing their own regional infrastructure. One such region CROSQ has interfaced with and come out richer for the experience, is Africa.
Here's an account, from our Technical Officer for Accreditation and Conformity Assessment, Mr. Stephen Farquharson, of how a study tour to Kenya, as guests of the African Organisation for Standardization (ARSO), which was funded by an ACP-EU TradeCom II Programme initiative, led to our realisation of how Africa can help CARICOM develop a regional certification scheme.
By Stephen Farquharson
The ACP-EU TradeCom II Programme, had several facets. By the way, the aforemention acronym means this was an Africa Caribbean and Pacific – European Union funded initiative, managed by the TradeCom II Programme.*
Under this initiative three Technical Officers, including myself, Ms. Latoya Burnham, who is the Technical Officer, Quality Promotions, and Mr. Fulgence St. Prix, the Technical Officer, Standards, participated in the study tour and meeting between the CROSQ Secretariat and the ARSO Secretariat in Kenya. This tour focused on exchanges and knowledge-sharing discussions on sustainability programmes.
The trip there took about two days, but once there, ARSO contextualized and shared information regarding the development and implementation of sustainability standards under their ECO Mark Africa (EMA) programme. I'll explain the EMA in a moment, but, led by the Secretary General of ARSO, Dr. Hermogene Nsengimana, during our introduction session the ARSO team explained in detail the concept and context of the EMA and facilitated site visits to three certified organisations.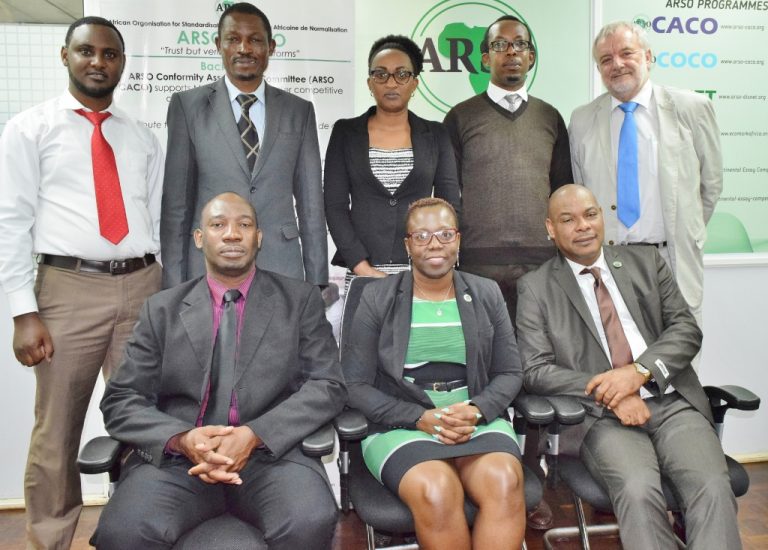 You see, ARSO developed regional sustainability standards and are implementing them through a Regional Certification Programme.  This accredited Certification Mark programme recognises the recipient of the mark's conformity with sustainability and quality practices, and the programme functions as a quality assurance mechanism with defined sets of threshold criteria outlined in the sustainability standards. The EMA programme includes ecological, social and climate-relevant requirements, backed by a credible implementation mechanism.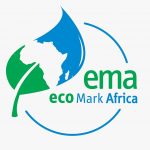 ARSO allows organisations fulfilling these requirements to be able to use the EMA label. By using this recognition system, EMA is expected to "encourage standards systems to address climate-relevant issues such as product carbon footprints or carbon offsetting schemes, which have often not yet been tackled adequately by existing standards systems. Furthermore, regional and sectoral up-scaling activities of existing standards in Africa will be facilitated". (ARSO)
The tour included trips to a fish farm, a coffee production and marketing company and a coffee plantation, to examine how this certification programme has benefitted those involved, but also to look at the challenges experienced and how they were able to overcome.
The major lessons learnt on this tour were that:
With new technologies, methodologies and standardized quality approach, the business platform of those who adhere to such a programme, can grow exponentially. In the case of the Kamuthanga Fish Farm, the new technologies allowed them to increase productivity and production such that output jumped from 5 metric tons per year to 120,000 tons per year.
Sustainability standards triggered a further demand for such standards and opened market opportunities that were previously eluding the suppliers. For example, the hotel sector is now Kamuthanga's largest client requesting more than they can supply even with their upgrades. This market operates on the basis of trust due to the farm's certification.
KOFINAF LTD – the coffee plantation, and Coffee Management Services (the other sites visited) explained that the commitment to quality has resulted in producers being able to demand a 20% to 25% higher price point, compared to non-certified coffee producers. Their processes, methodologies and policies gave insight into the efficiencies and sustainability parameters of their operations. From the discussions, it could be established that the sustainability standards and associated EMA certification fosters sustainable consumption and production patterns.
So, recognising that the Caribbean region is significantly prone to natural disasters and climate-related challenges that affect our economies and people, every aspect of existence within our region can be impacted by the risk of environmental phenomena related to the potential devastating effect of climate change. As such, building resilience and sustainability within our production processes and service platforms is an absolute necessity.
Recognising also that sustainability is a necessary and important component of our quality infrastructure requirement for our production methods and service delivery, CROSQ is looking to facilitate and embrace the concept of sustainability standards. As a result of the discussions and experience from the tour, we agreed to explore the possibility of establishing a mutual recognition arrangement between ARSO and CROSQ to deepen the relationship and share good practices between the regions. 
The two regions have the opportunity to be the movers and shakers in developing this new paradigm of sustainability standards and the associated certification programme. By extension, CROSQ is also reviewing the information received during this study tour to establish areas of feasibility to develop and promote a similar (even if modified) version of the ECO Mark system. This could lead to possibly introducing the scheme in the region under the Technical Barriers to Trade (TBT) component of the 11th European Development Fund (EDF) Economic Partnership Agreement (EPA) programme, where provision has been made to explore a regional certification programme.
So by all indications this was an invaluable experience for our region, thanks to the TradeCom II Programme and its ACP-EU partnership.